Catalyst Biosciences case study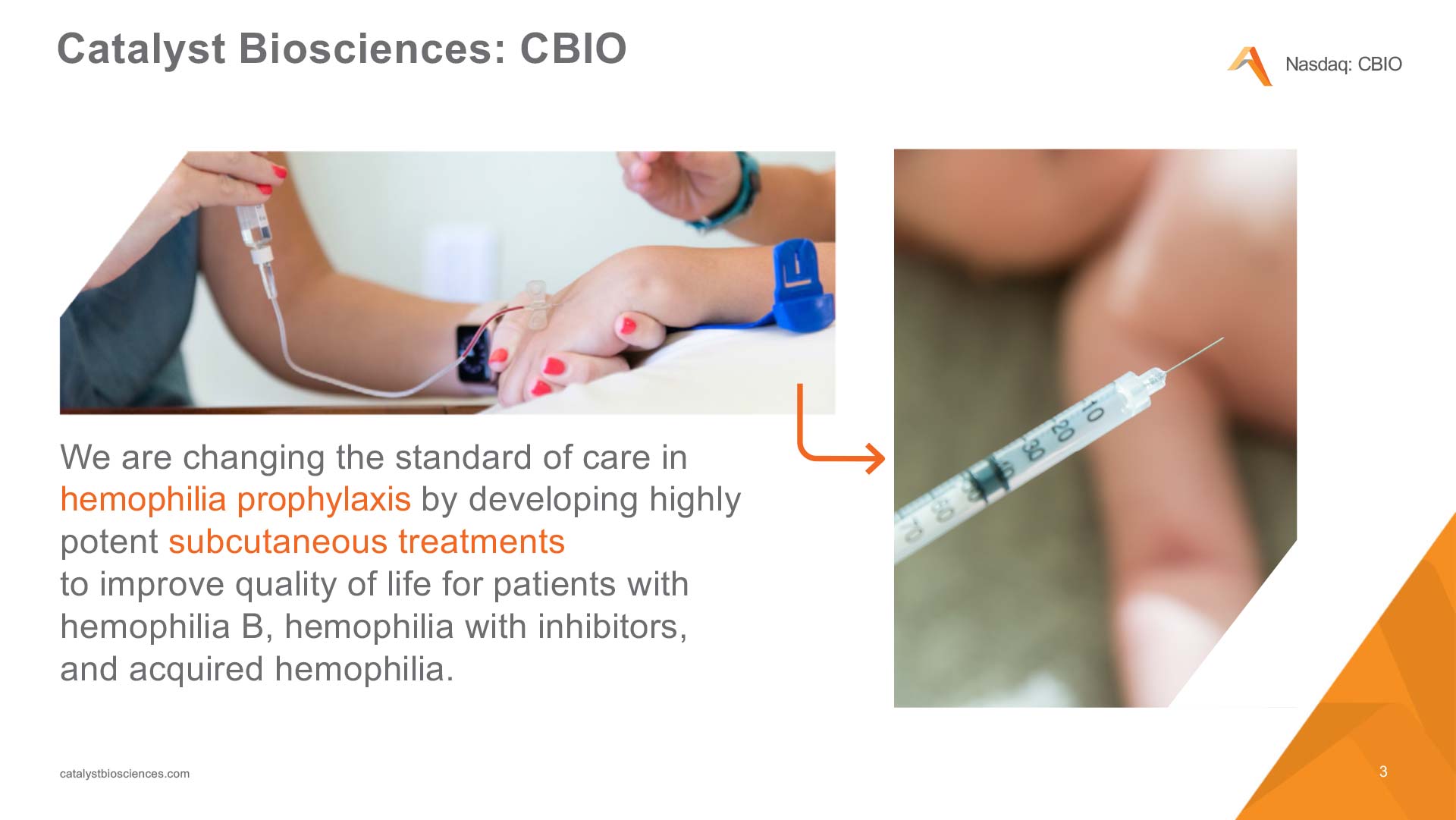 Sometimes you don't realize there's a better way to do something until you see it done. That was the case for Jeff Landau, Vice President for Business Development at Catalyst Biosciences. As an attendee at the Annual J.P. Morgan Healthcare Conference, Jeff witnessed a variety of presentations from leading pharmaceutical and
healthcare companies — but one presentation stuck out. One that, as he discovered, was developed by Theoria Creative.
As a clinical-stage biopharmaceutical company, Catalyst Biosciences works in hematology, developing highly potent subcutaneous treatments that improve the quality of life for patients with hemophilia.
"We had recently raised $115M in public equity and our company was fundamentally transforming into clinical development from what had been a research company for the past 10 years," explained Jeff. The company develops protease-based therapies that are designed to overcome the significant limitations of current treatment options as well as facilitate preventative treatment.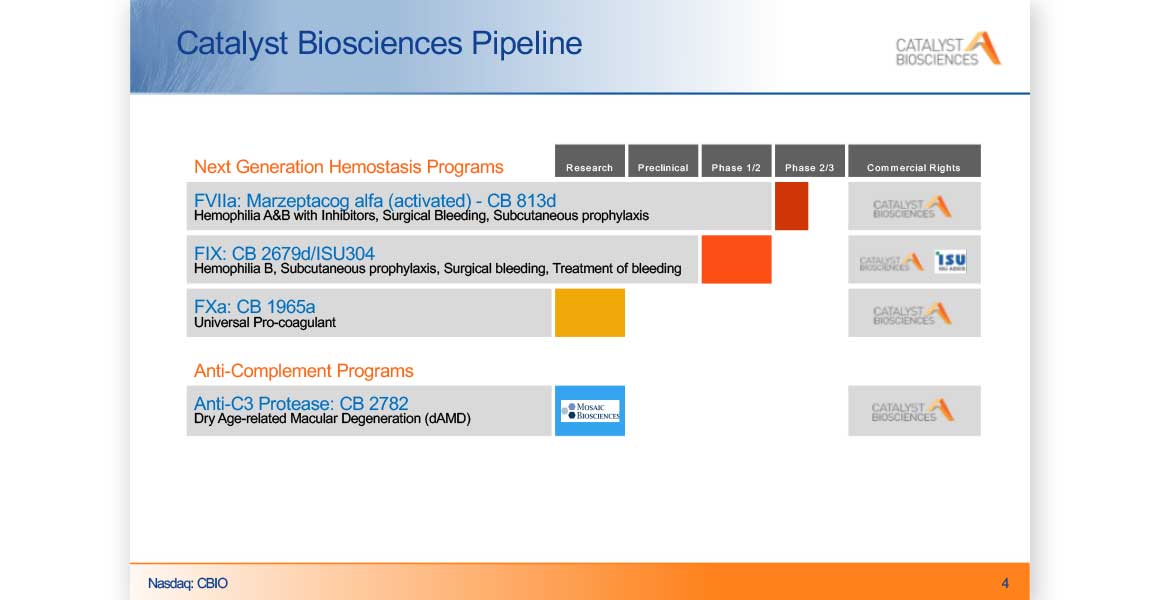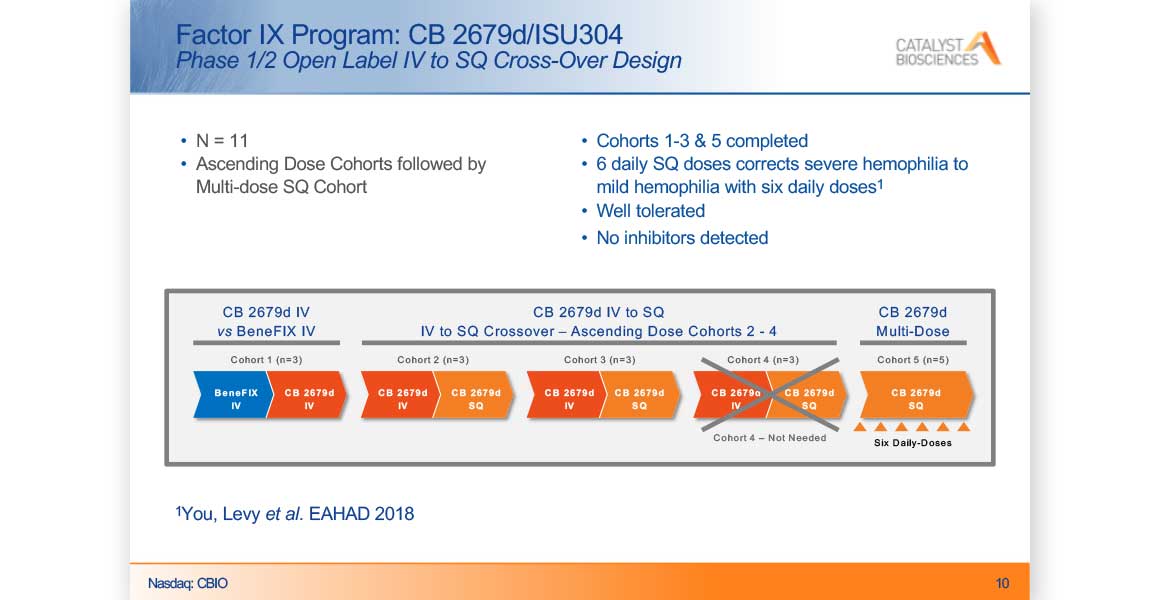 Catalyst Biosciences original slides
"We needed a fresh look and perspective on the 'voice' of the company through our corporate presentation. We are a small company of fewer than 20 people and don't have the bandwidth to really focus on that aspect," Jeff said.
Catalyst did evaluate firms that offer design services, but they felt that Theoria Creative was offering more than just design. "We felt Theoria Creative was hands-on and wanted to understand our specific issues. And we liked how they visually represented information in their examples," noted Jeff. Theoria Creative's level of involvement was the determining factor — especially that of the founder, Oksana Bovt.
"Oksana came in and met with our C-suite. We walked her through the old presentation so she could hear how it was delivered," Jeff explained. "Then we talked through the messaging, where we run into problems and have trouble communicating information."
"Oksana requested relevant industry and company information so that she could really understand the situation and issues we face from a scientific, industry, and competitive point of view."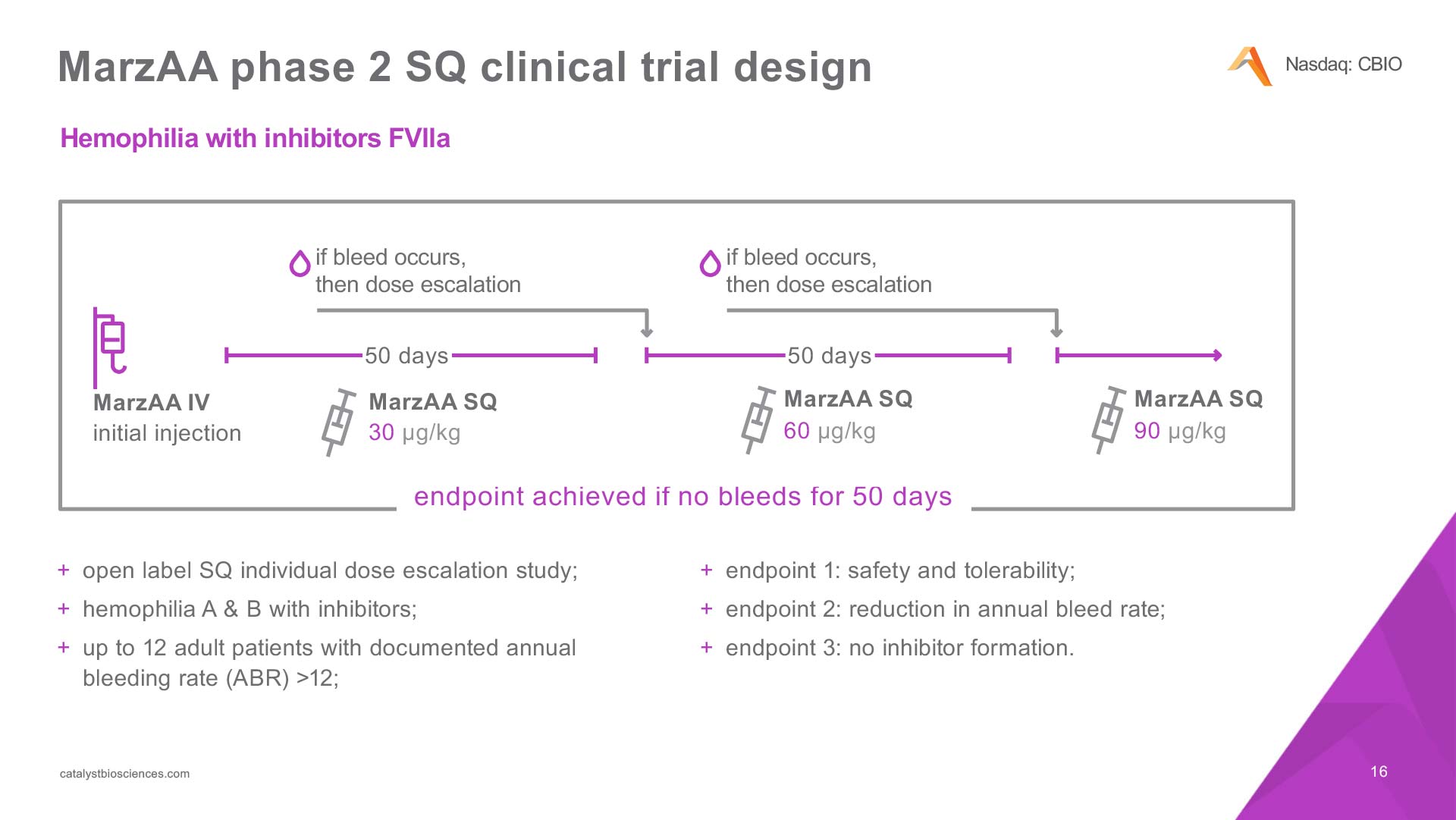 "Oksana's extensive research into the challenges and opportunities that faced the company was evident", Jeff explained further. "She was not afraid to provide candid feedback but at the same time, remained open to ideas and receptive to alternative options when Catalyst wanted to try something different".
From there Theoria Creative developed a new positioning statement and a storyline, suggested a new approach to data design, developed a new brand style, and created the first presentation draft. Through collaboration and multiple iterations, Oksana and her team lead Catalyst to re-think how to tell their corporate story.
"Life sciences companies are so focused on the data they report, they often downplay the important role these therapies play in the difficult lives of patients", Oksana explains. This distinction was crucial for Catalyst as it allows investors to cultivate a deeper understanding of reviewed data.
According to Jeff, the entire process of working with Theoria Creative was "interactive and constructive." With Theoria Creative's help, Catalyst was able to embrace and embody their new positioning: that the company is no longer a small startup, but an ambitious entity that will make the lives of thousands of patients substantially better. The CEO was so pleased with the work Oksana and her team provided that he has referred Theoria Creative to other companies.
About
Theoria Creative enables companies immersed in tech and science to clearly  communicate value to their targeted audiences when raising funds, soliciting partnerships,  pitching at roadshows, or presenting to prospective buyers.
Learn more about Theoria Creative.
Read our Case Studies.