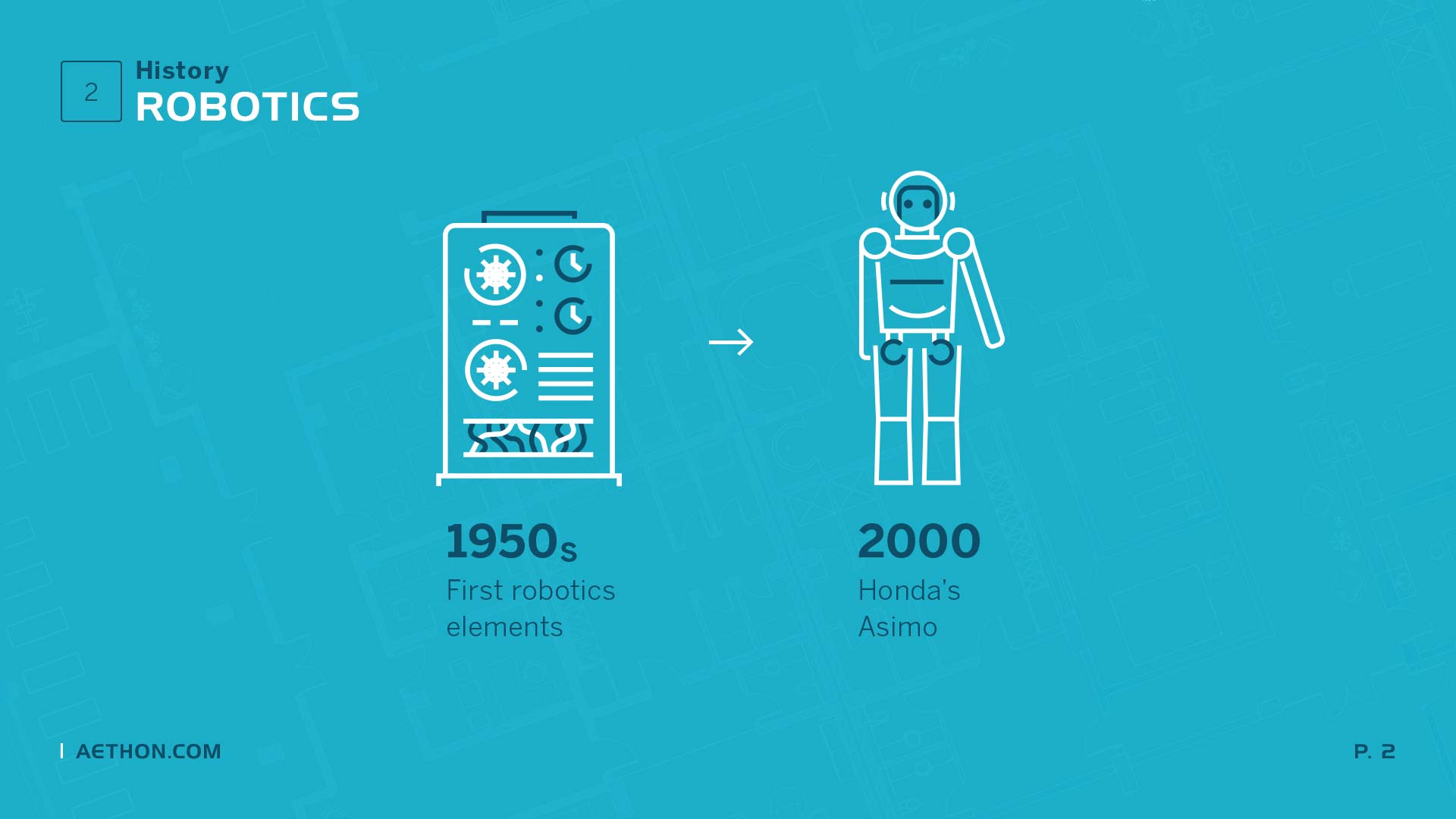 As one of the world's leading providers of autonomous mobile robots, Aethon's success can be attributed, at least in part, to understanding the importance of a fresh perspective.
Hired by Aethon's leading investor, Trident Capital, in 2014, the Theoria Creative team was tasked with providing a fresh perspective for rethinking the company's corporate message, competitive positioning, and corporate branding.
As seen in most growth-stage companies with a diverse line of products and challenging sales cycle, Aethon's messaging was intricate and hard to convey. Confusion and miscommunication at that level could be detrimental to a company's future.
"We had heard about Theoria Creative from a board member that worked with them on a similar project in the past," says Tony Melanson, Aethon's VP of marketing. "And we saw this prior relationship as the true measure of a creative agency — repeated, ongoing business."
Growth-stage companies are focused outward: on the market opportunities, needs of their customers, and growing competition. And it is common practice among marketing agencies to follow suit and focus messaging and re-branding exercises around the needs of the client's targeted audience.
In order to achieve clarity in corporate messaging and positioning, with complex cases such as Aethon, Theoria Creative knows it is best to reverse that focus and turn the attention of the executive team inward. For that reason, a corporate presentation is the best output tool to facilitate such an exercise.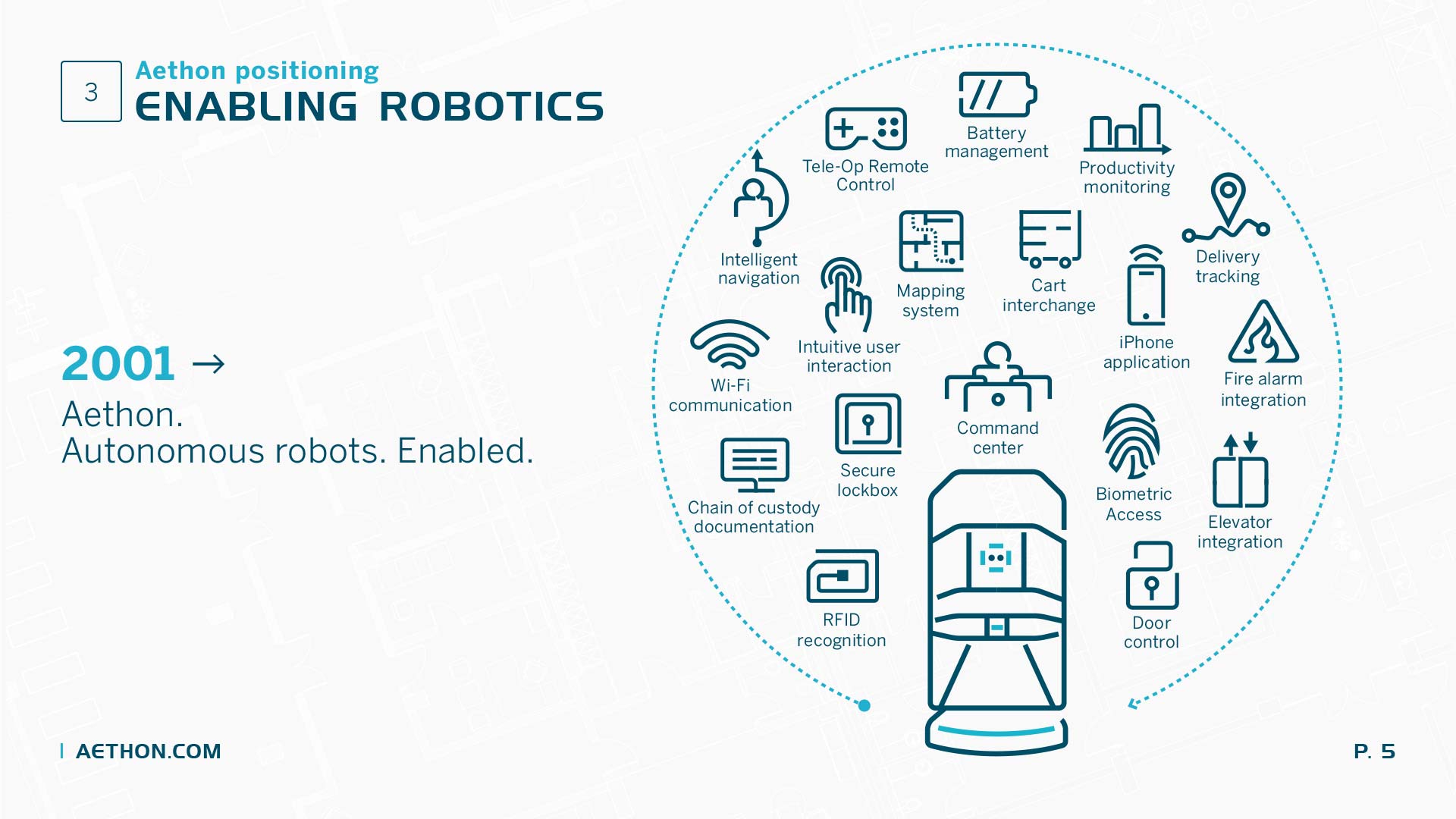 As they moved forward, Theoria Creative was able to weigh the company's potential against that of leading industry competitors and distill a unique niche to be filled: Aethon was the only provider in the market with a full robotic solution — TUG — complete with a spectrum of patented technologies that enabled intelligence and automation. From their research, Theoria formulated Aethon's positioning statement, "Autonomous robots. Enabled."
With their new corporate positioning, clearly defined message, and improved communication between the executive team and board of directors, all of Aethon's stakeholders could see the various opportunities that lie ahead for the company, including their competitive advantage and potential to expand into different markets.
With all the stakeholders on board, the next step was to tell Aethon's corporate story — what the company had become and their future full of opportunities.
"A lot of the creative heavy lifting was done by the Theoria team," says Tony. "But when it came time to develop the storyline, the process became interactive and the Aethon executive team was involved."
Theoria Creative used their third-party point of view to construct a cohesive corporate story that would captivate Aethon's target audience. The team's fresh perspective allowed a fascinating story of a Pittsburgh-born company to unfold. Theoria told a masterful narrative of how Aethon's autonomous robot came to be, harking back to the city's heyday of railroad automation in the previous century and drawing parallels to the modern era of robotic automation.
"The CEO was pleased with the story," explains Tony. "It reflected both our position, as well as our vision and overall opportunity. It struck a perfect balance of storytelling and pure informational exchange."
The last step was to develop a branded style and translate the message and the story, using conceptual design, into a corporate presentation.
"As with any well thought out projects, there were multiple iterations to refine and hone the content, which was done collaboratively," says Tony.
When the Aethon corporate presentation was finalized, it provided a great insight into the company at present, highlighting two distinct product lines – TUG and MedEx. Improved understanding for all parties involved led to smart decisions for the company's future. From there, Aethon redirected their focus and began working towards new markets and expanding their applications.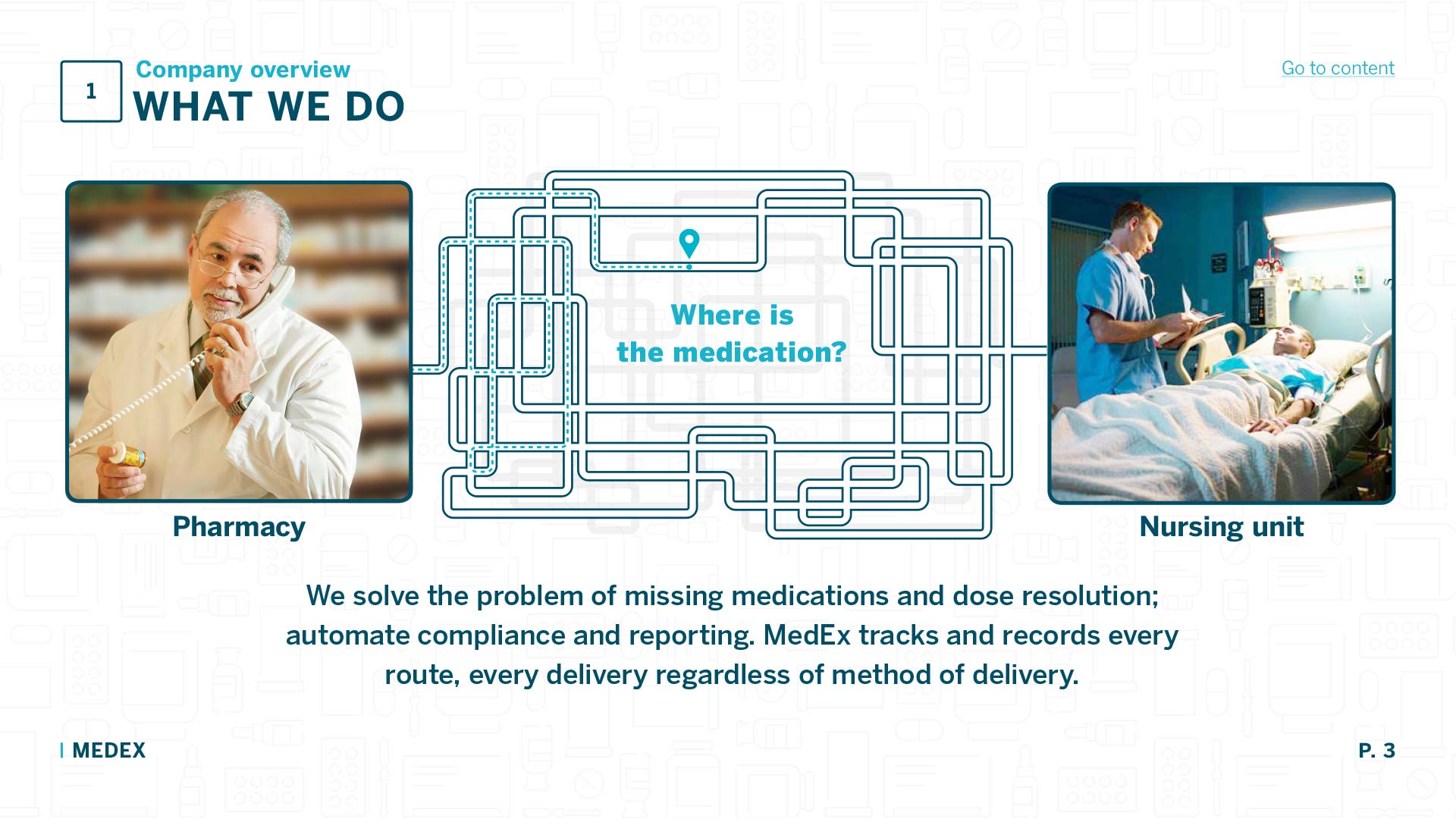 Since then, Theoria has been a consistent creative partner.
"As time went on, we continued to work with Theoria for all sorts of marketing-related and creative development projects," Tony concludes. "It was their consistent delivery of quality work that kept us working together on several projects beyond our initial engagement."
The beauty of Theoria's hands-on approach ensures that they know Aethon in and out, and allows them to work with minimal supervision. They've helped Aethon launch new products by developing branding and creative marketing materials in digital, print and interactive media, web pages, product animations, brochures, flyers, and trade show booth displays.
For growth-stage companies, enlisting a fresh perspective from an expert agency like Theoria Creative can be a crucial component of the business lifecycle and a determining factor in overall success.
To learn more about Theoria Creative's presentation services, visit our portfolio.
About
Theoria Creative enables companies immersed in tech and science to clearly  communicate value to their targeted audiences when raising funds, soliciting partnerships,  pitching at roadshows, or presenting to prospective buyers.
Learn more about Theoria Creative.
Read our Case Studies.